Boobies are big business in the Galapagos. The blue kind get most of the attention, but the red kind attract plenty of wildlife lovers as well.
While most visitors do not see red-footed boobies because they tend to live on the far away island of Genovesa and spend more time far at sea, there are actually more of them in the Galapagos Islands than either the blue-footed boobies or Nazca boobies.
For a long time the only reliable location to see red-footed boobies (species sula sula) was by visiting Genovesa Island. The world's largest population (more than 140,000 pairs!) calls that island home, and you're sure to get some fantastic photos if you make the journey out there by boat. Since Genovesa is a distant island, it is well beyond the limit of day tour boats, so you can only access it by booking a cruise.
What surprises many Galapagos visitors is that red-footed boobies are also seen at Punta Pitt on San Cristobal Island.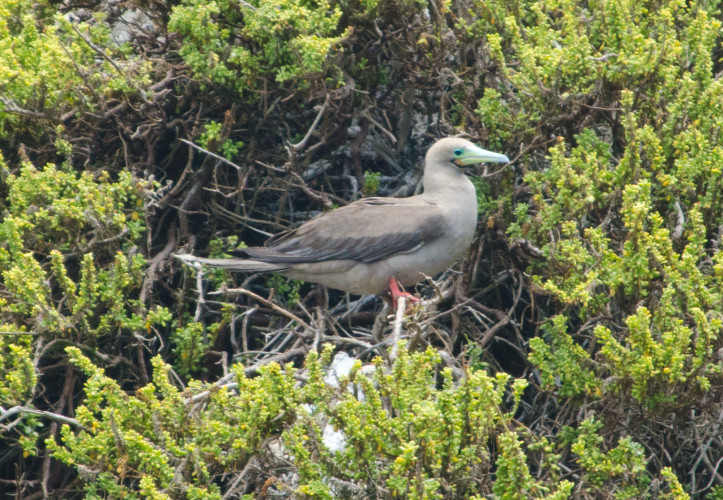 For the past few years there has been a small colony living here. At first, many park authorities and researchers thought they wouldn't stay, but it seems they quite enjoy their new home! The red-footed booby bird is smaller than the blue-footed booby, or the Nazca booby so it is more susceptible to predation by the Galapagos Hawk. Since there are no Galapagos Hawks on San Cristobal Island, these red-footed boobies are safe from predation.
Because the Punta Pitt population is small – depending on the time of year, there may not be many of them around, so be sure to ask locally if they've had good sightings recently. This is largely because red-footed boobies spend more time at sea compared to blue-footed boobies and Nazca boobies. If it is not breeding season, they have less reason to be on land.
Punta Pitt is visited on some cruises, but unlike Genovesa Island, you can also do a day tour to Punta Pitt! If you have an extra day or two on San Cristobal Island, ask around to find a local day tour company that may be running trips to Punta Pitt. (Day trips to Punta Pitt are only available from San Cristobal, not Santa Cruz).
About Red-Footed Boobies
While the red feet of mature red-footed boobies are an obvious giveaway, identifying red-footed boobies can take more than seeing their feet. Similar to blue-footed boobies, juveniles and youngsters don't have their bright color feet. They grow up with dull grey feet! The red-footed boobies are a little darker / greyer overall when they are immature compared to the other boobies. You can also notice a blue-tinted beak on them when they are mature, compared to other boobies in the Galapagos. These are helpful to identify them when their feet are hidden, or you're seeing red-footed boobies that are not fully grown. The red-footed booby in the top photo of this post is an immature booby, so he appears all grey, without his red feet.
If you happen to already be on San Cristobal Island, wandering around Puerto Baquerizo Moreno, then stop by the Galakiwi office and we'll help you find a day tour to Punta Pitt. Since Punta Pitt is the only economical option for spotting these boobies, you may want to put this day tour option near the top of your list if seeing as many species as possible is high on your Galapagos priorities!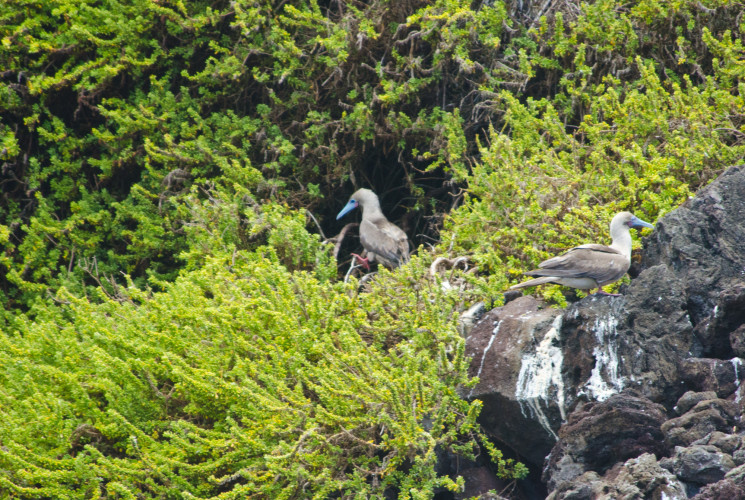 Depending on the company you book with you will probably have time to snorkel at Punta Pitt and make some other stops along the coast of San Cristobal to check out a beach or some lava fields.
If you're planning a trip to the Galapagos and want to see the red-footed boobies, let us know! Galakiwi does not visit Punta Pitt on our 6 and 10 day Galapagos land tours, but we can include it on any custom tour request.