The Galakiwi gear rental office is open for business on San Cristobal Island in the Galapagos.
We've always taken pride in offering the best mountain bikes, sea kayaks, SUPs (inflatable and hard paddle boards), masks, fins and wet suits for our travelers.
Now, we are happy to provide gear rental services for other visitors to the Galapagos Islands.
We Rent to Walks-Ins Only
We rent out our gear and equipment on a first-come, first-serve basis. We do not take any reservations.
Our gear office is usually open 7-days a week, but sometimes we take a break on weekends. If you walk by and the office is locked, we will have a couple of phone numbers posted on our door, so you can get in touch. If we do not have our contact numbers posted, that means we're closed for the day.
Paolo is our main man running our gear rental services, and Cristhian is often manning the desk and doing work in the gear office as well. Either of them will be more than happy to get you set up with some adventure items to enjoy in the Galapagos.
Galapagos Rentals – What can you Rent from Galakiwi?
We have kayaks, SUPs, life vests, wet suits, mountain bikes, fins, snorkels, prescription masks, beach wheelchairs and other gear available for rent.
We have received the necessary permits from the park authorities for renting out this adventure equipment and we stand by the quality of the gear we rent. As with our regular tours, we do not compete by offering the "cheapest" price – we prefer to stand out by offering some of the best maintained equipment.
Items are rented by the hour, with 2 hours being a pretty standard time for renting a SUP or kayak. Depending where you want to bike to you may need a 4 hour rental (if you plan to bike up to and explore El Progreso for example).
If you're spending a good amount of time on San Cristobal Island, you may also want to consider renting snorkel gear or other items for the entire week. Stop by and chat with our Galapagos rental team to see what the best option is.
Sea Kayak Rentals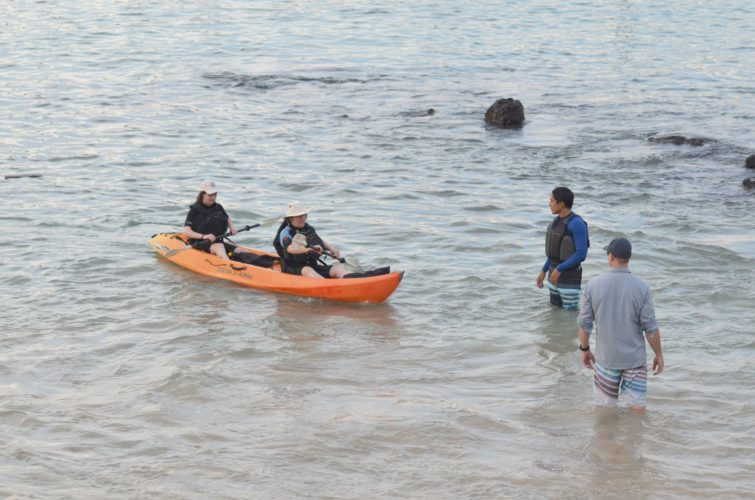 Our collection of kayaks includes sit on top kayaks, and inflatable sea kayaks. We have a number of tandem kayaks to choose from, and some solo kayaks as well. Our sit on top kayaks are from Ocean Kayak while our sturdy, inflatable kayaks are from Advanced Elements.
Life jackets are provided for all paddle renters (and are mandatory to wear). Dry bags are also provided with kayak rentals.
SUP (Paddle Board) Rentals
We offer a wide range of sizes and styles of stand up paddleboards for rent in the Galapagos. We have both hard boards and inflatable SUPs. Some of the brands we carry include Red Paddle Board Co., Liquid Shredder, and Body Glove.
Life jackets are provided for all paddle renters (and are mandatory to wear). Dry bags are also provided with SUP rentals.
Mountain Bike Rentals
With an inventory of dozens of mountain bikes in varying sizes, we have a bike that will fit just about anyone. You can choose from either KHS or more rugged GT mountain bikes. We also have a burley bike trailer available to rent for anyone traveling with small children.
Helmets are provided with all rentals, and are mandatory to wear. Bike locks are also provided.
Snorkel, Mask and Fin Rentals
Snorkeling is one of the best activities to enjoy in the Galapagos! There are a number of beaches and great snorkel places near town on San Cristobal Island. We have a very large selection of masks and fins.
Aqua Lung and Cressi are just a couple of brands of snorkel products we have, but our collection is always changing as we swap out older gear for brand new gear. We have split fins and paddle fins. Most fins are closed heel, pull ons but we also have open heel strap fins.
Rash guards and snorkel vests are also available for rent, to help protect against the elements or for a bit of buoyancy if you're not interested in renting wet suits.
All snorkel rentals include a carry bag for your equipment.
Prescription Masks
Galakiwi wants everyone to enjoy the Galapagos as much as possible, so we have invested in a small collection of prescription snorkel masks. If you wear glasses, but want to snorkel, this is the best solution!
Wetsuit Rentals
Our inventory is mostly shorties, but we have some long wet suits as well. The water temperatures can range quite a bit throughout the year in the Galapagos and many people are surprised the water is not "tropically" warm like in the Caribbean. Pinnacle Aquatics, SCUBAPRO and NeoSport are a few of the lines of wet suits we include in our inventory. Almost all of our wet suits are 2.5-3mm.
Rental Prices
Stop by our gear office when you are on San Cristobal Island. We have a complete printed list of prices and equipment available for you to review.
Location and Details
Our rental office is located directly up from the tourist pier in Puerto Baquerizo Moreno, across the road from Casa Blanca Hotel. We do not have any rental facilities in Puerto Ayora, Puerto Villamil or Puerto Velasco Ibarra.
Some items may require a security deposit to be collected, which we will refund upon safe return of the equipment.
Also, be aware that during peak times, and when we have a large number of tours running, we may not rent out our gear, due to giving our own travelers priority selection.
Sorry, but as mentioned above, we do not take any rental bookings by email or in advance. The only way to rent our gear is to show up at our office when you are here in the Galapagos.