Not long ago, the Galakiwi team participated in another important training session in the Galapagos Islands.
Living, and working in such a remote place creates extra challenges when it comes to keeping our guests, staff, and family members safe.
You can never have too much knowledge, and completing the Wilderness Advanced First Aid (WAFA) course with Fundación Mingai gives our team another step up for ensuring that everyone is well looked after from the moment they first step foot in the Islands, until they fly back home after their Galakiwi adventure.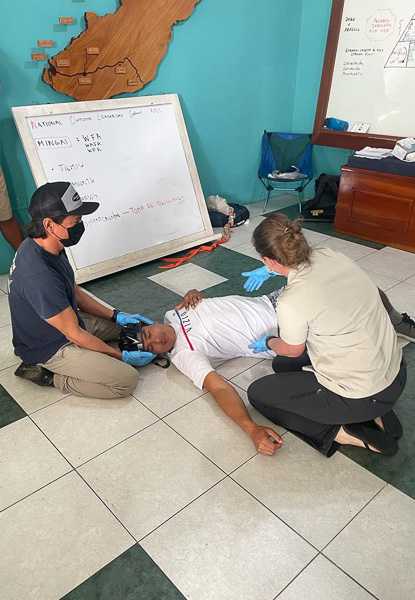 MINGAI is a non-profit organziation that has been running first aid courses in Ecuador since 2006. As one of the best established organizations in the country, they have a particular focus on wild and remote areas (like the Galapagos!)
The WAFA course is an intense, and in-depth course lasting 50 hours, covering topics like stabilization, treatment and evacuation from remote areas. The training involved going through potential injury scenarios and assessments, as well as best CPR practices.
After talking with the MINGAI experts about how to best handle any situation in the Galapagos Islands, our Galakiwi guides all learned something new that they can put to use should anything ever happen to any guests, friends or family members here in the Galapagos. While hospital facilities exist in the Galapagos Islands, it reminded us how important it is to always be prepared and have complete travel insurance when visiting places such as the Galapagos, as the breadth of hospital services available in the islands isn't at the same levle as what you would receive in Quito, or back home.