Ecuador is for adventure lovers.
If you're the type of traveler that craves some wow-that-was-amazing moments on your trips, we think it is pretty much impossible to cram in more fun activities into a 7-day tour than what we offer on our Ecuador trip.
From snow-capped peaks in the Andes to snaking rivers in the Amazon, yes we cover a lot of ground on this trip – but since Ecuador is so small, most of our time is spent outside, "adventuring".
There is biking to be had, massages to enjoy and markets to visit…but as fun as that is, they don't make the cut for our Top 6 MUST DO Activities in Ecuador. We're just going to skip over Quito too, since we are sure you've probably already booked one of our day tours (maybe the enticing Gastronomy Quito tour!?) and don't need to dwell on that awesomeness any more.
Alright, let's hit the road…and have some fun in South America's best little adventure country!
MUST-DO Ecuador Activity #1: Ride a Horse Chagra Style Amidst Active Volcanoes
When is horse-riding not just horse-riding? When you get geared up with some zamarros in the traditional Chagra-style at a genuine Hacienda that lies in the shadows of volcanoes! Giddy-up all you newly minted Ecuadorian cowgirls and cowboys.
Cotopaxi, an active volcano, is perhaps the most famous volcano in Ecuador. So, of course we go horseback riding in the Cotopaxi National Park area! Riding along nature trails amidst the beautiful paramo grasslands you'll trot, gallop and jump (ok, maybe no jumping) past herds of wild horses and bulls. This land is also home to andean bears, puma, alpacas and even wolves, so we're sure you'll be happy you are on a horse if you spot any of those. Yes, alpacas are cute, but deceptively dangerous (and delicious, but that is for another post).
MUST-DO Ecuador Activity #2: Climb UP some Waterfalls
One advantage that humans have over waterfalls is our ability to defy gravity.
After some forest hiking, our Ecuador tour has you face-to-face with a handful of waterfalls. For the water, the only way is down. For us gravity-defiers, the only way is up! We are still working on a way to use jetpacks for this part of the tour, so until then we use good old-fashioned ropes and ladders.
Swing, jump, climb, pull and crawl your way above each waterfall then watch and laugh at the antics of your fellow soaking-wet travel friends who are doing the same. You know it's going to be muggy and hot when you're doing this, so enjoy the free showers! Look how much fun these Galakiwi travelers are having!!
MUST-DO Ecuador Activity #3: Eat Guinea Pig…Or Beetle Larvae…Or ?
Not all adventures need be physical. Our Ecuador tour offers you a variety of adventures. Some are linguistic, some are spiritual, and some are edible!
Cuy is a delicacy in parts of the Andes and is similar to dark meat from a chicken, or perhaps more like duck or rabbit or … well you tell us; give it a try! Banos is the best place to get it done. But if your stomach is extra adventurous perhaps our Ecuador tour guides can tempt you with some grubs or beetle larvae too? We'll let you choose: grilled or fried?? Want more…no problem…just ask for some snacks in the Amazon and we'll be sure to find some other special treats for you.
MUST-DO Ecuador Activity #4: Explore the Amazon by Dugout Canoe
Monkeys, piranhas, tapirs, peccaries…wildlife abounds in the Amazon. But unlike a zoo, and unlike the Galapagos Islands, the animals tend to be freakishly good at hiding in the dense, deep Amazon rainforest.
But don't be sad, all is not lost animal seeker!
We know water is life in the Amazon, so if you're going to spot some cool animals it will be by dugout canoe. Along the banks of the rivers and in the trees along the shores are cautious creatures. A dugout canoe is also a bit freakish, in appearance only. Super long and skinny, they have just enough width for two normal sized humans. They're very shallow, allowing them to easily navigate the smooth waters of the Amazon.
Oh, and there is also a really well run animal sanctuary that takes in orphaned,  injured, or sick wildlife from the Amazon too. It's pretty much a guarantee to see some cool animals there if your spot-wildlife-from-a-moving-canoe skills still need improving.
MUST-DO Ecuador Activity #5: Ecuador is for Swingers!
When you're at the edge of the earth, or end of the world, there is only one thing left to do – swing like you've never swung before.
The Treehouse, or Casa del Arbor (sounds so much cooler in Spanish, doesn't it?) let's you release your inner-child for a swinging session in the sky – high above the Valley below, it is like coming to the peak of a roller coaster ride over and over and over again. If you like that stomach-in-your-mouth feeling you'll love this place!
Some of the swings here are a bit less vertigo-inducing than others so you can plan your swinging adventure to be as tame or exciting as your desire. Just tell your Galakiwi tour guide you want it to be a clear, sunny day (we obviously forgot to do that when we took this photo). Swing to your hearts delight and then maybe walk over for a little zipline after, just for the heck of it. You're an adventurer after all!
MUST-DO Ecuador Activity #6: Get Sweaty at Papallacta!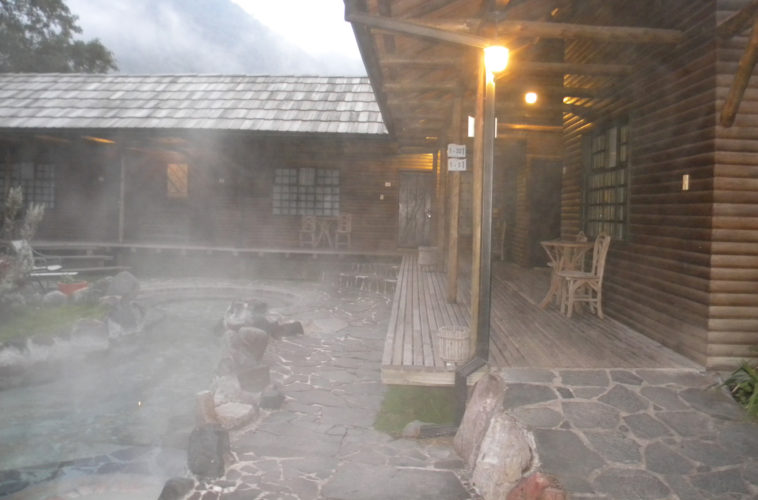 The Hot Springs at Papallacta are an exciting, sweaty, fun adventure! perfect for relaxing after a long day of hiking, or just as nice on a lazy day of lounging around.
The public pools at Papallacta have numerous pools of varying temperatures and are open to everyone for a small fee. As fun as those are, to get the full experience, you need to stay at the Hotel Termas de Papallacta to get access to their hot springs that are right outside your front door!
You'll also get access to lush gardens, and some walking trails, plus access to the public pools is free if you're staying at the hotel.
These hot springs are a misty, hot, must-do activity in Ecuador.
There you have it. Six of our must-do adventure activities from our 7-day Ecuador tour! Which one do you want to do most?