While the current pandemic has brought travel to a standstill, we have spent the last few months working hard to install new and improved safety and hygiene protocols to give our guests the security and confidence to start planning adventures again.
Many people and parts are working together behind the scenes to ensure our tours are a once in a lifetime experience. While on tour with us, we want every day to be filled with awe, go above and beyond your expectation, and leave you with a whole new sense of love and respect for nature. We still want to do all this, but in the most secure way possible. We have meticulously combed through every step of the tour, analyzing the risks and implementing improved safety and hygiene protocols to ensure our guests, team members, and local community stay as safe as possible.
We are following all the industry standards and have a few extra measures in place of our own. Below is an overview of what Ecuador, Galapagos, and Galakiwi have done and are doing to ensure your confidence with booking and safety while on tour.
Ecuador
Ecuador was one of the first countries to shut down its borders at the start of the COVID crisis. The country has been working hard since the beginning to get control of the situation and be able to reopen safely for tourism. After months of closure, Ecuador reopens for tourism with new protocols and extra requirements in place.
Ecuador Recognized As A Safe Travel Destination
Ecuador was awarded the Global Safe Travel Stamp from the World Travel and Tourism Council (WTTC). This stamp recognizes Ecuador's implementation of global hygiene and sanitation protocols and aims to ensure the responsible and safe reopening of tourism. Designed to regain visitors' trust, this stamp allows travelers to identify destinations worldwide that have adopted global standardized health and hygiene protocols.
Ecuador Entry Requirements
Ecuadorian airports (Quito or Guayaquil) are open for international flights again with the following safety requirements:
A Negative Covid-19 PCR Test Result Within 10 Days. Everyone traveling to Ecuador should do so with a negative PCR Covid-19 test result within the last 10 days. When presenting a negative test result at the airport in Ecuador, it is not necessary to quarantine for any period of time.
No Test Result Back Up Plan. Anyone who enters Ecuador without a negative PCR test result will be required to take one at the airport at their own cost and quarantine in an approved hotel until the results are received.
Temperature Checks and Health Questionnaire. Upon arrival at the airport, temperatures will be taken, and a health questionnaire will need to be completed.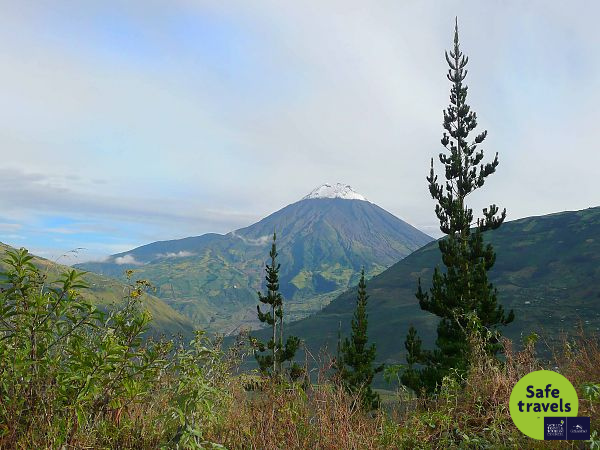 Galapagos
Galapagos went through a strict closure period to keep the virus from infiltrating the archipelago. The intense effort paid off as there have been minimal cases in the islands. Now the Galapagos Islands are ready to welcome visitors once again with a few extra safety measures in place.
Galapagos Entry Requirements
The Galapagos National Park reopened to visitors on July 1, 2020. The following requirements are in place for the control and safety of the islands:
A Negative Covid-19 PCR Test Result Within 96 Hours. Test results taken within the last 96 hours will need to be presented at the check-in of your flight to the islands to allow you to travel.

Children under 17 years of age are exempt from this requirement.
If you need to have a Covid 19 PCR test done in Ecuador, Galakiwi can provide a list of medical centers or assist with arrangements for you to be tested at your hotel with results emailed to you within 24 hours.

Valid Travel Insurance Certificate. Travel insurance must cover all medical costs, including Covid-19 medical costs.
Safe Passage Document. Galakiwi or your travel agency will provide you with this before your visit.
Transit Control Card. This must be completed online at least 24 hours before travel.
Electronic Boarding Pass.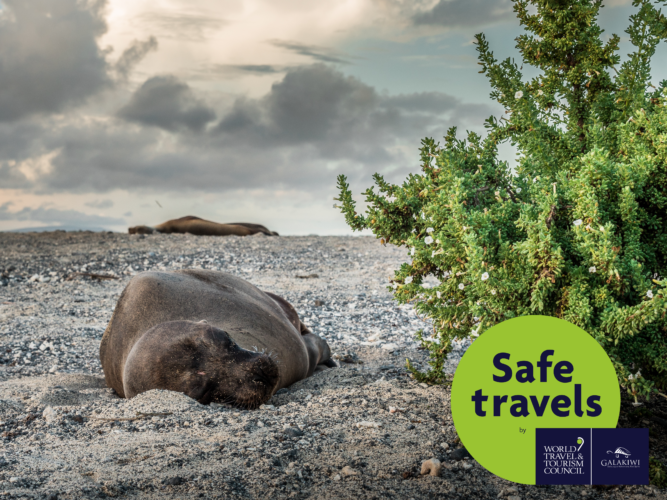 Galapagos National Park Efforts Increased
The Galapagos National Park relies heavily on tourism resources to enable them to monitor and protect the National park and Marine reserve. Therefore everyone involved in the tourism industry is working to provide tourists with a safe and secure experience.
As of October 14th, 2020, the Galapagos National Park has reopened all visitor's sites. The Galapagos National Park already has an exemplary tourist management model, and they are working further with the local operators to ensure best practices are implemented.
Galakiwi
Early on in the pandemic, Galakiwi halted tours. Even with Galapagos reopening officially (and the fact that we are really missing our guests), Galakiwi has still delayed resuming tours until we are sure that we can offer the experience we are known for in the safest possible way. After months of planning and waiting, we are ready to start welcoming guests again starting in January 2021.
Read on to learn more about our efforts, policies, and protocols designed to give you peace of mind and help us all adventure safe.
Galakiwi Awarded Safe Travel Stamp
We are proud to announce that Galakiwi has received the Safe Travel Stamp from the WTTC to recognize our efforts in adopting the global health and hygiene standard protocols.
This stamp is a critical step in re-establishing confidence in travel and ensuring travelers can have peace of mind knowing that enhanced hygiene standards are in place.
New Risk-Free Booking Policy
We want you to feel secure and excited from the moment you start planning your adventure. Check out our new risk-free and flexible booking terms and conditions below.
Tiny Deposit: Only $200 per person is required at the time of booking.
Transferable Deposit: Change of plans? No problem. Your full deposit can be transferred to a future tour without worry. No fees. No sweat.
Pay Later: The tour balance is not due until 60 days before the start of your tour — no need to pay ahead of time unless you just want to.
Cancellation due to Covid-19: The full amount paid is transferable to any tour until the end of 2022, without incurring additional fees.
For more details on our Risk-Free Booking Policies, click here.
Pre-Tour Customer Care Package
The following will be provided for all our guests, ensuring you have all the information and guidance you need for safe travels:
Airport Protocols
Additional Protocols
Travel Safe Tips
Recommended Packing List – including additional Covid-19 preventative items
Travel Insurance Advice and Recommendations
Covid-19 PCR Testing Information, Advice, and Recommendations in Ecuador
Designated Local Adventure Specialist contactable by phone or email. We will arrange a pre-trip call to give you a travel briefing, ensure you have all the information you need, and answer any last-minute questions you may have.
Adventure Safe With Galakiwi – The Big Picture
We've always been safety conscious. Now we are taking it to a whole new level to protect our guests, team members, and local community.
Small Groups. You will be part of the same small group, with the same guide throughout the whole tour. By limiting the number of people our guests come in contact with, we reduce the virus's opportunity to spread.
Local Company. Galapagos is our home. We are on the ground on every island to double-check all logistics and safety measures and ensure compliance with all COVID-19 safety protocols. Being onsite helps us guarantee the high standard of service we are known for and your safety.
Support for Local Community. Our land-based adventures work closely with the local community and support the local economy. The only way for Galakiwi to offer the safest possible tours is by making sure our suppliers and providers are safe as well. We are available to help all of our partners navigate the new government requirements and make sure they understand our additional protocols.
Comprehensive Training. Team members will be fully trained on the new, enhanced safety and hygiene procedures.
Additional Support On Tour. A safety and welfare specialist will be available for guests' support on each island. Your guide will inform you of the protocols to follow for each activity and site visit.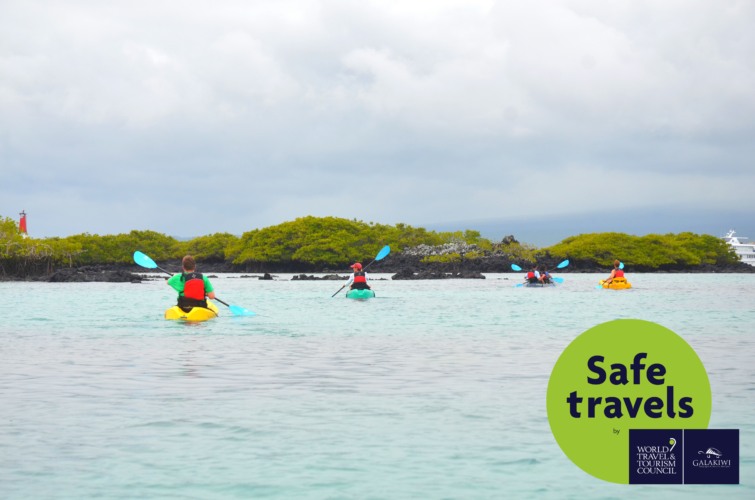 Galakiwi Partners
Full Compliance. Galakiwi will only be working with local partners who fully comply with all biosecurity protocols required by the government and Galakiwi.
Full Support. We will be working closely with our chosen partners to ensure all safety requirements and procedures are being followed.
On Tour Enhanced Guidelines and Protocols – The Details
Land Transportation
Private vehicles will be used on tour for all land transportation.
Vehicles will be cleaned and disinfected before and after each activity.
Each vehicle will utilize no more than 50% of its capacity to allow for social distancing.
Windows will remain open to allow fresh air circulation.
Face masks must be worn by everyone on board throughout the journey.
Hand sanitizer will be provided for guests.
Boat Transportation
Private boats will be used on tour as much as possible.
Boats will be thoroughly cleaned and disinfected before and after each activity.
Face masks must be worn during the embarking and disembarking process.
Hand sanitizer will be provided for guests.
Hotels
Small hotels (where we are often the only guests) will be utilized.
There will be enhanced daily cleaning and disinfection of all areas.
There will be additional cleaning throughout the day of frequently touched areas.
Face masks must be worn by staff at all times.
Face masks must be worn by guests in social areas only.
Hand sanitizer will be provided for guests in social areas.
Restaurants
Small restaurants with outdoor seating will be used primarily.
There will be enhanced daily cleaning and disinfection of all areas.
There will be additional cleaning throughout the day of frequently touched areas.
Face masks must be worn by staff at all times.
Meals
Alfresco Dining. Most, if not all, meals will be in outdoor seating.
Social Distance. Tables will be pre-reserved, ensuring an appropriate social distance is maintained from other tables and guests.
Streamlined Dining. Meal orders will be taken before arriving at the restaurants for a smoother and efficient dining experience.
Activities
Clean Hands. Guides will offer hand sanitizer and handwashing facilities at regular intervals.
Social Distance. Social distance to be maintained throughout the activities: one meter in open spaces and two meters in closed areas.
Tailored Protocols. Guides will advise guests of the protocols for each activity.
Full Planning. All visits have been fully planed with our local knowledge to ensure the best experience in the safest way.
Open Air Interpretation. Guides will ensure the interpretation happens primarily in an open space at visitors' sites to guarantee guests have room to practice social distancing.
Equipment & Supplies
Masks and hand sanitizer will be readily available for all guests and team members throughout the tour.
All activity equipment provided for guests' use will be thoroughly sanitized before and after each tour.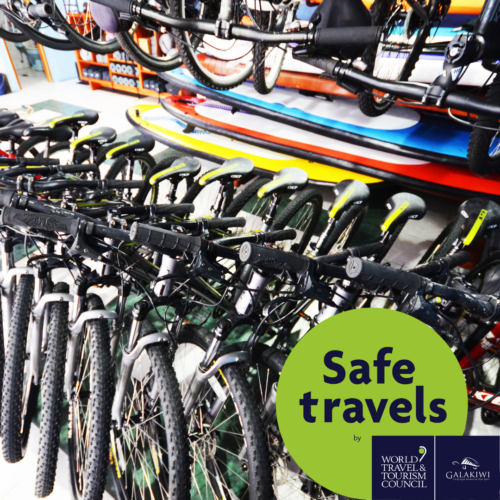 Galakiwi is committed to staying on top of all official guidelines and recommendations and adjusting our protocols as necessary. If you have any questions about what we are doing or how we are doing it, please reach out.
If you would like to know what tour options we currently have available, have a look at our guaranteed departure dates or see how you can create your own private and customized Galapagos tour.