You've made it to the Galapagos, and are spending some time in beautiful Puerto Villamil on Isabela Island. Now, where are you going to eat?
Vacationing on Isabela Island has been de rigueur for many years now, and it makes sense since it has such a relaxed feel and great beach. A side effect of that popularity is that for a small, sleepy town it sure has a lot of dining options available! Selecting where to go and what to eat can be a challenge.
Here are some tips and suggestions from our team, who lives in the Galapagos Islands, on where to eat on Isabela Island.
Booby Trap Cafeteria and Bar
The ground floor here operates as a new restaurant, while the upstairs bar is run by the original owner still. Booby Trap serves up great drinks and solid food. Pizza is everywhere on Isabela Island, but the pizza made by Booby Trap is among our top two favorites on the island!
A special treat for chocolate lovers is to seek out a brownie from Bobby Trap. Unlike brownies at some other bakeries and restaurants around the islands, this is a rich, delicious homemade brownie, best eaten with ice cream of course! From the main square, you need to head down the road towards the Wall of Tears, Booby Trap is one of the last spots before you get to Iguana Crossing hotel.
Isabela Grill
This restaurant has been around for ages, as have many others on Isabela. When it comes to a unique BBQ experience in the Galapagos, this Puerto Villamil option is hard to beat. Best visited as part of a group so you can take advantage of some larger meal options and sample lots of seafood or other BBQ goods. The charcoal grill and cooking at your table is a fun change. They serve a solid, good-sized almuerzo at lunch too. Isabela grill is located just up from the main square and restaurant row. Head of the street to the left of restaurant row to find it.
Royal Rock
A new restaurant on the island, they work hard to bring in the lunch business, and the food is good. A wide range of fish and seafood dishes tend to be on offer with lunch specials competitively priced in a clean setting. If you're in the islands for quite some time, worth checking out! Just past restaurant row on the road to the Wall of Tears and Tortoise Breeding Center.
Mercado Municipal de Isabela
The municipal market is the place to go in early afternoon if you're craving an empanada or small treat instead of a full meal. Lunch tends to be big in the Galapagos, so this is a nice way to mix it up, and save a bit of money too. There are usually one or two stalls serving up fried deliciousness. It is hard to beat the combination of a empanada con queso and a glass of morocho! The market is a few blocks up from restaurant row, a block past Isabela Grill.
Shawarma Hot
One of the nicest almuerzo options on the island, but they also have a huge menu with decent burgers, very good shawarmas (as they should!) and more typical dishes like fried rice and seafood dishes. Popular with groups, Shawarma Hot is a bit small and can reach capacity some days quite early, thankfully they've done a recent expansion so this is less likely now. Lunch clock starts right at 12 noon in the Galapagos, meaning if you arrive somewhere after 12:30 you may not get a seat, or some dishes may already be sold out. It is located on the main street, but to the right of restaurant row – heading back to the pier and Concha de Perla.
Coco Surf
If we are going to mention Shawarma Hot, we have to mention Coco Surf too. First, because these two restaurants are the top favorites of our sales manager Laura, who lives on Isabela Island.
Secondly, Coco Surf is another place that serves up very good shawarma / wraps. But they also have some more unique dishes. Big bowls of soups, heaping piles of their special "crispy rice", impressive seafood platters, or simple but just as good shrimp dishes are popular. A few menu items claim to have aphrodisiac-like qualities, so choose wisely! It is another spot that can get crowded for dinner as seating is limited, and service isn't super fast (but it isn't super fast anywhere in the Galapagos).
El Velero
One of the spots on "restaurant row" right in the middle of town. Delfines and Cesars are two other ubiquitous options on this stretch too. Really, if you're looking for value this isn't the area to go, but it isa great setting and popular for a reason, so you should at least have one meal on the tourist strip. Velero gets the bigger mention from us as they are the second place that serves up really good pizza in Puerto Villamil. Sure, there are many other dishes, and many other restaurants with pizza, but this one never disappoints. A bonus is that they pretty much always have all the ingredients to make each type of pizza on the menu. It is one thing to have a big menu, but another to actually be able to serve anything off the menu. Many restaurants in the islands are notorious for only having a few eating options, despite displaying large menus.
Iguana Point
The best choice for food on the small strip that is directly on the beach near Hotel Albemarle, beside BJs Beach Bar. Iguana Point is good for lunch if you're looking for a traditional almuerzo type of meal. Later on in the day, it is a good spot to go for happy hour drinks including their famous coco-locos!
El Cafetal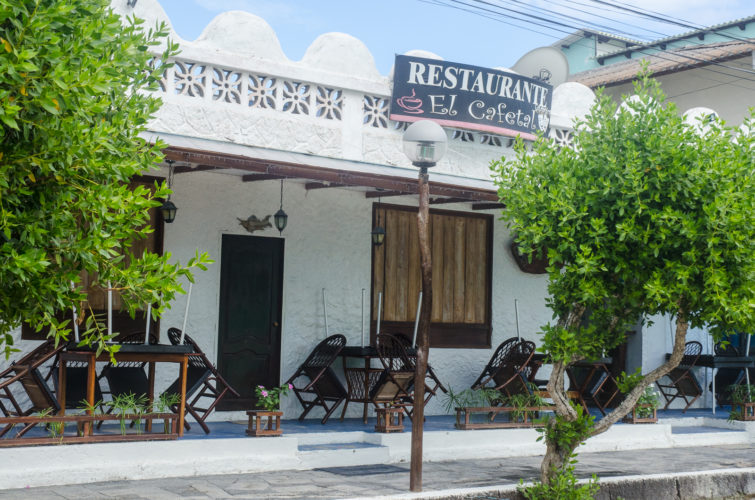 Love it or hate it. This restaurant is a bit controversial to many locals on the island with an unofficial boycott happening. The good side is that the food is really delicious. You can get a mix of Italian options, seafood options and more here. It is located right by the church near the main square. As for the controversy, more than a few people have experienced an unwelcoming attitude from the owner. If you visit this place and have a bad experience, be sure to let us know – the same goes for any other spots we've listed here.
El Toque de Melida
This is a busy lunch spot for local workers, with a rare tourist appearance. But it is always busy! If you're looking for a real local meal experience and are watching your budget closely, this is the type of spot you will want to look for to enjoy cheap eats on Isabela Island. When an Almuerzo lunch may be $8 at a place like Isabela Grill, you can get a similar meal for a bit less at places such as El Toque de Melida. Located up the street past El Cafetal, La Fogata and El Faro restaurants.
Cuna del Sol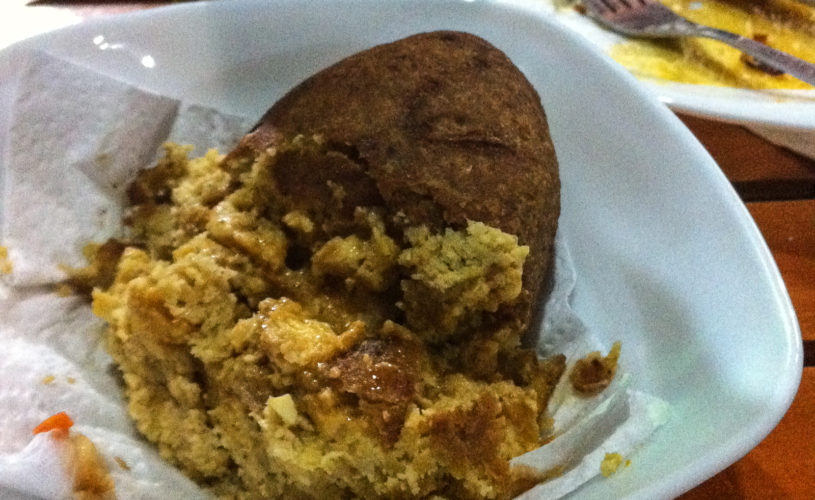 Walk down the public pier in town and there is a nice little cafe restaurant there. You'll get to choose from fried snacks such as empanadas and tostados and corviches. Another nice option to hit when you're not looking for a big, full meal on Isabela Island. Plus the view from the end of the pier is great!
…and many more…
Puerto Villamil really does have so many options. We've mentioned some above without going into too much detail. Other restaurants we commonly visit include Red Lobster (which has a very good yapingacho), Oasis and Hausers. Most hotels in town do not have full fledged restaurant options but Casa de Marita and Iguana Crossing are two places with impressive food and dining options. You may be interested in hitting Betos Beach Bar or the Isabela Beach Restaurant at Casa Rosada too, as they both have ideal beachfront locations. Let us know what your favorite spots are to eat in Puerto Villamil!
You may notice a number of photos in this post are of empty restaurants. Why? Well, because we took a lot of them on a late-afternoon Sunday. You'll find that a lot of restaurants do not open on Sundays. But, even during the week, most of them close during the afternoon for a few hours of siesta time! Going out for lunch after 1pm can be a challenge as places will be closing down for siestas, then re-opening around 5pm if they serve dinner. Now you know!